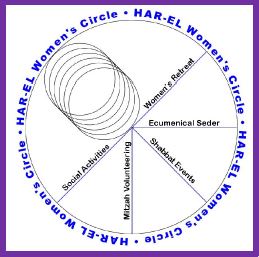 The Har-El Women's Circle Retreat has been held once a year for the last 15 years. It is endowed by Marylynn and Andy Gladstein. Their generosity has enabled the Retreat to be a most special day for all who attend. The purpose of the Retreat is to bring women together for study, entertainment and socializing.
Over the years, the women have enjoyed a play followed by dialogue, sessions on Torah Commentary, presentations on books, movie reviews and current events as well as a class on the history of Jewish cuisine.
The luncheon decorations include centerpieces of women's toiletries that are contributed to Shelter From the Storm. In addition, attendees bring numerous gifts that can be donated to women in need.
A Silent Auction is held and proceeds go to learning activities. The 2024 Event is being planned to accommodate the COVID Pandemic. Further information will be forthcoming as to the 2024 event.