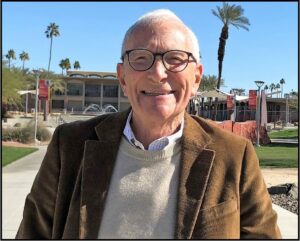 RABBI ZIONTS RECEIVES RECOGNITION FOR TEACHING 25 PLUS YEARS AT C.O.D.

In late 1995, when Rabbi Richard Zionts and his wife, Lynda, purchased a second home in Palm Springs, it did not take them long to realize that this Valley was where they needed to make their permanent residence. The driving force was family and the Desert blue sky.
During the transition period, Zionts served 15 months as Interim Rabbi for Temple Sinai while the congregation was in their Synagogue location on Monterey Avenue, Palm Desert. It was during this time that he completed his Ph.D at Penn State University. By the Fall of 1997 Zionts taught classes at C.O.D. and Cal Poly Pomona, where he continued for 13 years. This busy schedule left some hours during the day, so he started Har-El, Member, Union for Reform Judaism in Spring, 2004, where Rabbi Zionts has continued as the Founding and Presiding Rabbi.
In January, Zionts was recognized for his 25-plus years of service to C.O.D. in the Philosophy Department. He has taught over 7,000 students. The topics have included Ethics, World Religions, Perspectives on Death and Dying, History of Philosophy and Logic.
When asked what is the motivating force behind his long tenure of teaching, not only in California, but also in Pennsylvania at Penn State and Mt. Aloysius College, his answer is: "The students in class and seeing their success years later". He shared that on his last day at Cal Poly a young man ran after him calling his name. When the man caught up, he said: "I want to thank you, Professor. Your kindness, during a difficult time in my life, allowed me to graduate and today, I am on the faculty at Cal Poly." Zionts fast forwarded to the present and shared that after he was recognized by C.O.D., two former students came over to him. They both told him how they still think about his classes and that they are now employed by C.O.D.
Zionts added, "Numerous times I am out and about and former students will come over to say hello and thank me. In this troubled world today, those gestures of gratitude are most touching."
When asked how many more years would he like to teach, his answer was quick with a smile: "At least five." He went on to say: " I am certified to teach on Zoom for five years. I will also teach live this Fall."
Zionts has started the Spring Semester with 45 students in class. The topic is Logic.